THE TEAM ROCKET EXPERIENCE
Alagna, its sub-zero climate and the ICE ROSA RING circuit have been chosen once again this year as the stage for the Snowquake: the most RAD event of the Italian motorcycling scene!
For those of you who are not familiar with it, Snowquake is the winter edition of the more renowned Dirt Quake. The race takes place on an icy track and the rules are very simple: bikes must have studs on the tyres not exceeding 5mm in length, protections for the front and rear wheels and there are just three racing categories: flat track, vintage enduro and inappropriate, with the latter being the most coveted category where anything goes and contestants can race without any limits in terms of engine size or other specifications!
Only a restricted group of people can take part in the race, however, and all participants are carefully vetted and approved by the organisers, Gary Inman of SideBurn Magazine – an English magazine with a strong FlatTrack focus - and and Filippo Bassoli of Deus - the brand that has become synonymous with high quality lifestyle events. Even this year the synergy between the two organisers and hosts helped to create a fantastic one-of-a-kind event that attracted motorcyclists from all over Europe to the Italian Alps.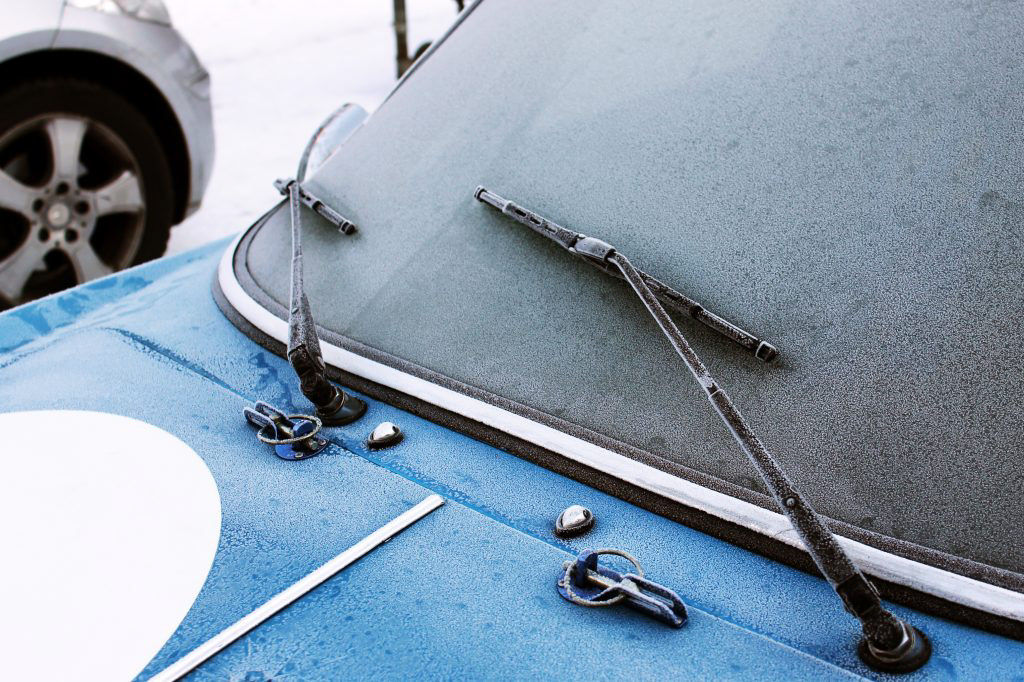 In 2016 the Indivisual team were there as spectators and were completely unprepared for the freezing -16 degrees temperatures in Alagna. As we tried in vain to warm up, drinking mulled wine alongside trashcan bonfires, we had only one thought in our minds: next time round we wanted to race too. Our competitive spark had been ignited!
The question was: "How could we get an invite for the race?"
Come November we started looking into it, but we didn't get very far … So we decided to play our trump card! For more than a year we had been working closely with another madman who lives in Sicily and "mixes" motorbike playlists on a daily basis that people can hear on RocketGarage Magazine
We gave him a call:
"Orazio, the SnowQuake is on again this year… #needlesstosay, there are hardly any places available as absolutely everyone wants to take part so we need you to get us on the inside track".
"Leave it to me" he responded.
He called us back less than 24 hours later:
"I wrote to my friend Gary and he'd be happy to have us, but he wants to know what bike we'll be racing with. We've got a couple of days to give him an answer".
48hours to create a team and find a bike, a pilot and some partners to help us out!
The first person to join Orazio and ourselves was Max (a longstanding client and friend). He's the owner of the Vismoto Milano garage – that many of you will know through its connections to BUELL motorcycles. He immediately said he was up for working on our bike - but which one?! The short list included a Buell, a Speed Triple that needed quite a bit of work and very little else.
The race was meant to be a bit of fun for us and we needed a suitably crazy bike… so we opted for a 50cc Suzuki StreetMagic! A sort of mini-moped that you can ride like a motorbike which has 12-inch tyres and high handle bars!
Now all we needed was a pilot that was familiar with the bike and who was enough of a mate to still speak to us after being forced to race it on an icy surface at temperatures of -16°. There was no doubt in our minds: it could be none other than Luca Scassa, a lifelong friend with heaps of talent and just enough recklessness! A fun fact is that this rider from the town of Arezzo, who has raced in all possible categories throughout his career, actually made his first moves on the racing track in 1999 in the Suzuki StreetMagic Cup!
Orazio Rocket:

 Team Manager


Luca Vizzini:

 Team Coordinator


Camilla Cima and Andrea Venegoni:

 PR, Social Media and Photos


Max Vismoto:

 Chief Mechanic


Tommy:

 Handyman


Luca Scassa:

 Rider


Federica Annoni:

 Paddock girl!
We worked tirelessly over the Christmas holidays and as Max busied himself trying to add horse power, a speed changer, an exhaust, a 70cc cylinder and removing all superfluous cables, supports or sundries, the Indivisual were taking care of all other details.
Thanks to Ottavio Missoni's suggestion we contacted KoldKutter who were enthusiastic about the project and within no time sent us 750 studs, a load of stickers and a promo banner to use during the race!
The customs officers were a little less enthusiastic and they charged us a 35 euro customs clearance fee!
Since we had no time to paint our StreetMagic properly, we decide to to opt for a high performance IKEA synthetic fur covering that transformed our 70cc into a fearsome arctic monster resembling a White Chewbacca! Our madness reached even more glorious heights when it came to the number plates - which are printed by Graphycolor - and the two ultra-tessellated tyres from a cross pitbike!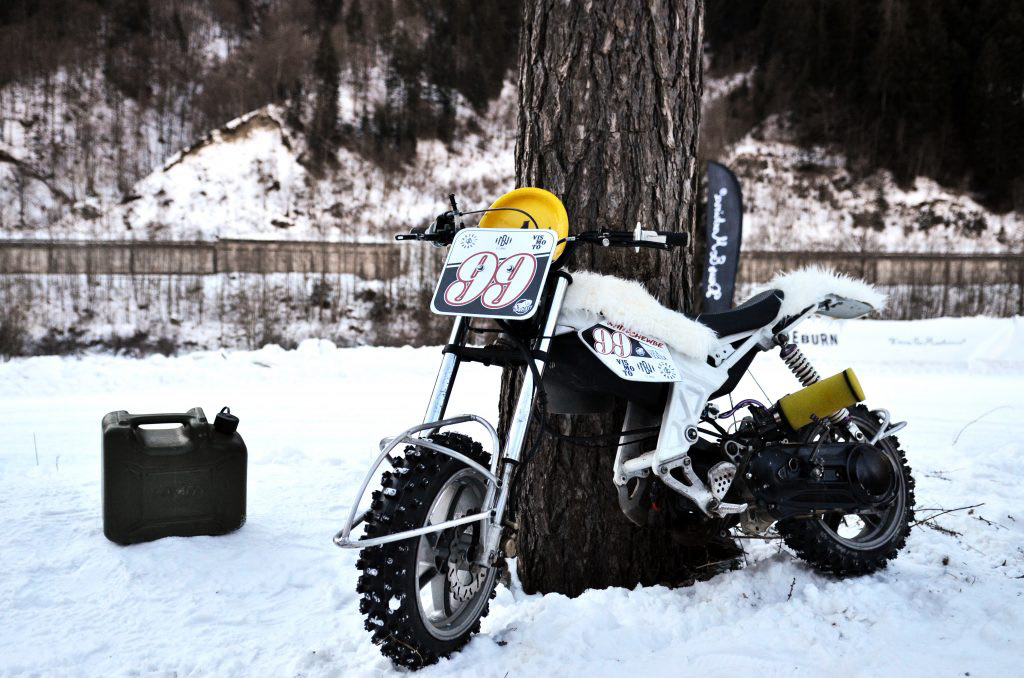 At 6.00 am we left Milan for Alagna with a 6-seater van + a car.
After a journey of a couple of hours during which we managed to get lost and experience generational conflicts between our GPS devices, we reached the paddock of the Ice Rosa Ring. As we unleashed White Chewbe, Luca got changed into suitable attire: an original Italian Air Force jumpsuit provided by Orazio; a fluorescent orange Bell Moto3 helmet, courtesy of Bergamaschi ; Gaerne boots and Salice goggles bearing the Italian flag. We were ready! At the registration tent Gary was there to welcome us in person.

With the registration complete, petrol in the tank and our rider clothed … it was time to take to the track for the practice sessions!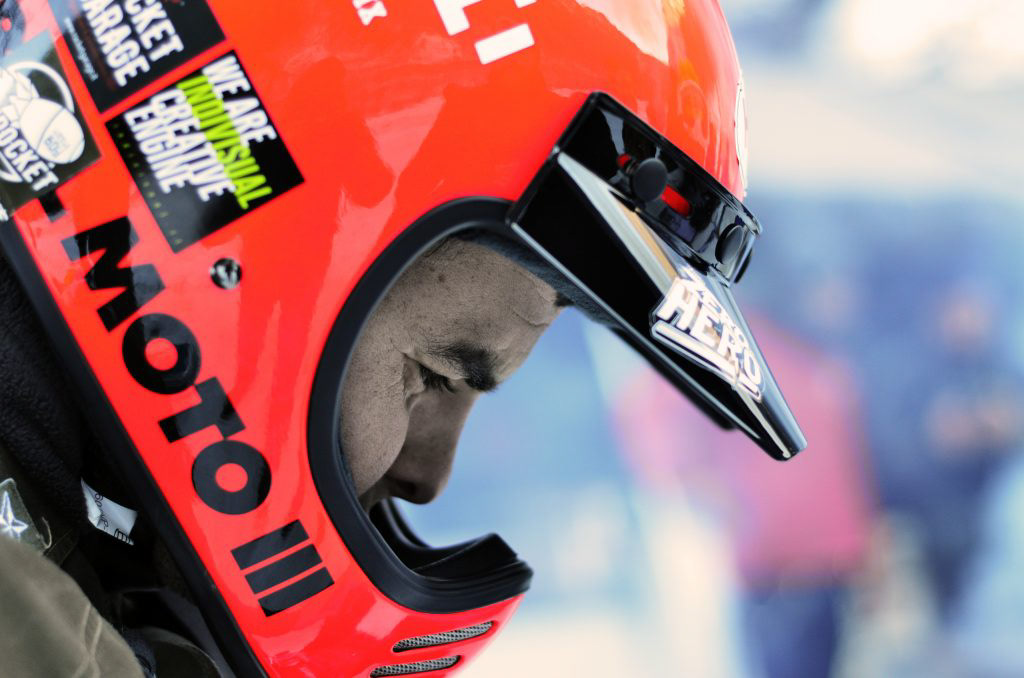 All 10, or maybe 12 HP of the white chewbe were driven into the ground by Luca. He had a look on his face like a kid in a sweet shop and his wrist was firmly in the flat-out position with the engine constantly at full throttle!
Our opponents had much more powerful steeds: Brian Gillen (the very creator of the 3 cylinder MV engine) was at the helm of a brutal 800 MV Agusta, Cek Ceccotti was on a Ducati that had been prepared by the guys at Vibrazioni. There were also a couple of Morini that probably had 1200cc and the SR400s prepared by Marco Belli and driven by journalists of the calibre of Roberto Ungaro. But Luca didn't seem fazed as he whizzed by with his orange helmet closing the gap with every full throttle lap!
We ended the first leg in fourth spot despite Luca taking a tumble in the middle of a bend at one point! But morale was excellent, thanks in no small part to the mulled wine.
After the second leg we picked up another fourth place and Luca walked towards us excitedly and enigmatically stated: "We might be through to the final". A few minutes passed before we received the official confirmation: TEAM ROCKET was through to the final! White Chewbe was in second row behind bikes with ten times as much horse power.
We crossed the line in fourth place again but we weren't bothered as we hadn't come to win. All we had hoped for was to make the most of the experience and have a ball, so it was mission accomplished!
It was time to go back to celebrate our achievement with all the other participants at  Deus Cafè where we also joined by Orazio… Even though he couldn't attend the race he chose to skip the MBE gala event in order to meet us. As soon as he saw us he came up and hugged us like only friends can do, with that smile on his face that has become the trademark of all of our adventures together!
In the DEUS LEICA THEATRE, just upstairs from the bar, we sat back to watch the footage from the day's racing. With SnowQuake under our belts it's already time to think about our next adventure… ideally somewhere warm by the sea so destinations such as France, Spain or Portugal would not go amiss…